At present, seamless pipes are used to manufacture structural parts and mechanical parts, such as petroleum drill rods, automobile transmission shafts, bicycle frames, and steel scaffolds used in building construction. It also saves material and processing time, so steel pipes are now widely used for manufacturing. carbon steel seamless pipe manufacturer share with you:
The use of seamless steel tubes is very wide now.
1. It is rolled from ordinary carbon structural steel, low-alloy structural steel or alloy structural steel with the largest output. It is mainly used as a pipeline or structural part for conveying fluids.
2. According to different uses, it is divided into three categories: a. Supply according to chemical composition and mechanical properties; b. Supply according to mechanical properties; c. Supply according to hydraulic test. For steel pipes supplied according to categories a and b, if they are used to withstand liquid pressure, hydraulic tests are also required.
3. Special-purpose seamless steel pipes include seamless pipes for boilers, chemical and electric power, seamless steel pipes for geology, and seamless pipes for petroleum.
4. Black seamless steel pipe has a hollow cross section and is widely used as a pipeline for transporting fluids, such as pipelines that transport oil, natural gas, gas, water and certain solid materials. Compared with solid steel such as round steel, steel pipe is lighter in weight when it has the same bending and torsional strength, and it is an economical section steel.
The surface of fake and inferior seamless steel pipes is prone to cracks. The reason is that the billet is adobe, and there are many pores in the adobe. The adobe is cracked due to the thermal stress during the cooling process. After rolling, there are cracks.
The inferior seamless pipe has no metallic luster, and it is light red or a color similar to pig iron. There are two reasons for this. Its blank is adobe. The rolling temperature of fake and inferior materials is not standard. Their steel temperature is measured by visual inspection, so they cannot be rolled according to the specified austenite region, and the performance of thick-walled seamless pipes cannot naturally meet the standards.
The material of the fake and inferior seamless pipe contains a lot of impurities, not only the density of steel is too small, but also the size is very bad, so it can be weighed and checked without a vernier caliper.
the surface of fake and inferior seamless tubes is prone to scarring. There are two reasons for this: ① The material of the fake and thick thick seamless pipes is uneven and there are many impurities. ② The guide and guard equipment of the fake and inferior material manufacturers is simple and easy to stick to steel. These impurities are easy to scar after biting the roller.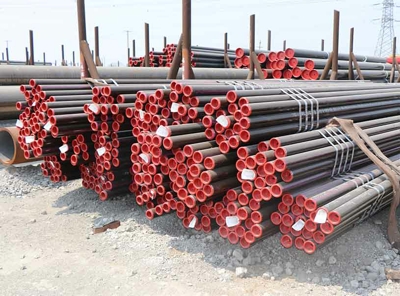 Black Seamless Steel Pipe
The cross section of the fake and inferior seamless pipe is oval. The reason is that in order to save materials, the reduction of the first two rollers of the finished roll is too large. The strength of this rebar is greatly reduced, and it does not meet the rebar external dimensions. Standard.
A good 10 inch seamless steel pipe has a uniform composition, a high tonnage of the cold shearing machine, and a smooth and tidy end face of the cutting head. However, due to the poor quality of the inferior materials, the end face of the cutting head often has meat. Phenomenon, but uneven, and no metallic luster. However, because fake and inferior materials manufacturers have fewer cuts, big ears will appear at the head and tail.
Credit Steel Industrial has 4 factories in Tianjin and Hebei Province, with more than 500 employees; more than 100 professional and technical personnel; has 12 advanced production lines, equipped with complete testing equipment and supporting energy-saving equipment. The annual output exceeds 600,000 tons.
Years of steel spot sales experience and the development of production and processing technology have made the company more aware of the importance of product quality. We adhere to product quality as an element of the company's survival and strictly control all aspects of pipe product production, processing, and logistics To ensure that customers can get satisfactory products. The company is based on the principle of giving customers a favor, allowing you to get big discounts, high-quality products and satisfactory services, with persistent and strict requirements for product quality and continuous improvement to return the recognition and trust of new and old customers, welcome Everyone visits and guides.